Copperhead County
A downloadable tabletop RPG
Copperhead County is a Southern noir game about organized crime and political corruption in a fictional slice of Tennessee circa 2017. Steal, deal, sin, and pursue the American Dream in a place where whiskey and blood run together.
Copperhead County is Forged in the Dark, based on the beloved engine from Blades in the Dark. Inspired by media like Breaking Bad, Better Call Saul, The Wire, and the books of Daniel Woodrell, Elmore Leonard, and Attica Locke—plus many other works of contemporary crime fiction—Copperhead County presents a grounded, real-world setting and invites you to play an action RPG in it.

The current Early Access version of the game is a 60+ page PDF, extensively playtested and refined, compatible with the free Blades in the Dark SRD. You will need to reference the SRD, or have a working knowledge of the system, to play. The EA document contains full variant rules, playbooks, player and GM guidance, and an original setting. There's a lot of content!
Play and find:
Action! Steal things, chase cars, brawl goons, blow stuff up.
Drama! Explore your character's personal relationships and problems as they embark on their new career in organized crime.
Politics! Consider the legacy and present of the South, in its dueling majesty and horror. How do you feel about mountaintop removal mining, union organizing, and television news? Will you infiltrate the political machine to entrench your power, or smash it and reject authority?
Music! Copperhead County has two official soundtracks: a regular one and an extremely long one. Listen to the main soundtrack right here!
Backing Copperhead County during the EA period is backing the final product. This game is 100% DIY-produced. There are no publishers or crowdfunding campaigns here. Your purchase goes directly to supporting, growing, and completing the game.
CREDITS
Created, written, directed, and produced by Jason Eley
Additional writing and editing by Michael Crowley
Interior art and additional cartography by Adam Schwaninger
Cover and iconic character art by Dylan Choonhachat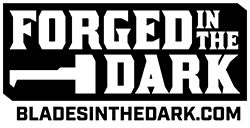 Blades in the Dark™ is a trademark of One Seven Design. The Forged in the Dark Logo is © One Seven Design, and is used with permission.
Purchase
In order to download this tabletop RPG you must purchase it at or above the minimum price of $16.66 USD. You will get access to the following files:
Copperhead County EA v10d.pdf
25 MB
Copperhead County Sheets v10 10-05-20.pdf
3 MB
The Best Brands Heist v10.pdf
368 kB
The Collectible Card Grab v10.pdf
88 kB
Download demo