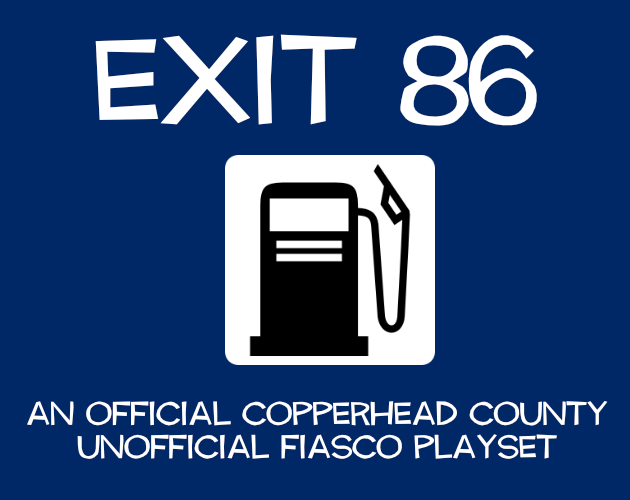 Exit 86: A Copperhead County Fiasco Playset
Without Fiasco, Copperhead County might not exist. Way back in the halcyon days of the early 2010s, the idea that you could play an RPG inspired by the Coen Brothers was strange and novel. The first Fiasco playset I played wasn't one of the originals—it was Flyover, one of Jason Morningstar's Playsets of the Month, about drug dealers, agribusiness, and hijinx in the heartland. That session crystallized the realization that tabletop RPGs could tell the kind of stories I wanted to tell.

Now that a new edition is Fiasco is out, those memories have been on my brain, and I wanted to revisit those bygone days. In my mind, the kind of Fargo-esque provincial crime fiction explored in Flyover is still the apex of Fiasco. Well, in the time since 2010, I've also written a game of provincial crime fiction, so here is Exit 86: an official tie-in to Copperhead County, created unofficially as a Fiasco playset.
Exit 86 is currently supported as a VTT add-on. To use it, you'll need to set up Fiasco in your VTT of choice and upload the card images as a deck.